gloMinerals is my favorite brand when it comes to mineral makeup. I just love their lip products and as of lately I've fallen in love with their eyeshadows. I was pretty excited when I saw that they're coming out with a contouring palette that's compact enough to take with me when I travel.
The Contour Kit has two available shades, Fair to Light and Medium to Dark. I got the Medium to Dark Kit and it works perfectly for my medium skin tone. Sometimes with contouring palettes you get shades that don't match your skin tone so you can never use them but with this palette I can actually use all four shades.
gloMinerals also released a double ended Contour/Highlight brush to go with the Contour Kit and I have to say that they did a great job. One side is perfect for setting and brightening the under eye area but also for highlighting and the other is perfect for cheek contouring. The brush feels very soft and the bristles are flexible enough that makes blending a breeze.
The Contour Kit has four shades: a matte yellow shade for setting and brightening the under eye area, a shimmery champagne shade to use for highlighting, cool toned medium powder that has the perfect shade to mimic shadows and a darker matte warm brown that is good for bronzing up the face and adding some warmth.
The palette also comes with a contouring face map which is helpful if you're a beginner.
All four shades are nicely pigmented and not powdery at all. When I put my brush in the pan I don't get a lot of powder kick off which is very nice. They also blend nicely on to the skin and never look patchy. The highlighter is on the intense side so I would probably just wear it at nighttime since it adds a lot of glow.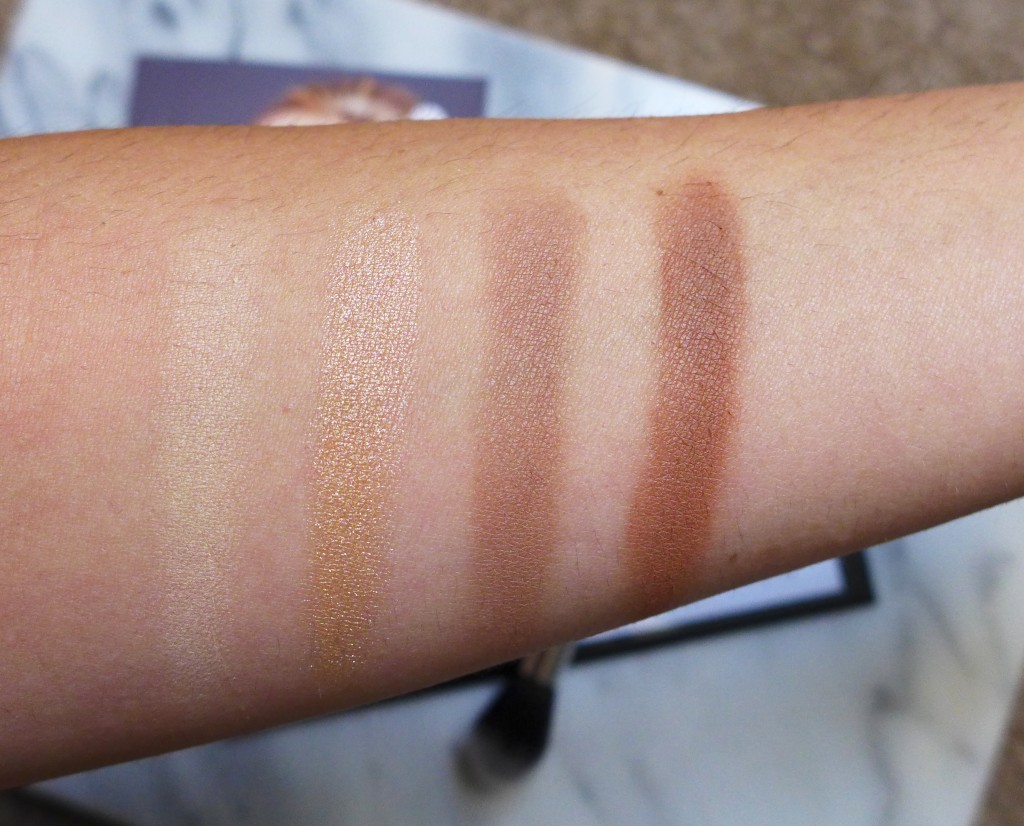 Swatches of the gloMinerals Contour Kit
As you can see by the swatches all shades are pretty pigmented and look very soft and creamy. They all get a big thumbs up from me!
I'm glad that gloMinerals added a contouring palette to their line. They nailed the shade selection and I really like the travel friendly packaging. Highly recommend!